pr0ncollage
pr0ncollage is a side-project I started hacking on a couple of days ago.  It works by scraping images from Twitter and collaging them.  As the program continues to iterate, it blends it's new image selections into the same canvases resulting in a crossfaded display between two constantly evolving images.
The interesting aspect of this project is that the images are displayed without context and disappear as quickly as they are added into the image.  It's interesting to watch, because while what you're seeing is statistically random, the mind can connect specific areas of the displayed image with trending events with actual images directly related to those events.
The plan is to make it run as a gnome-screensaver module, but this isn't ready yet. (Infact, right now the canvas size is hardcoded to 1280×800…)
Obligatory Screenshot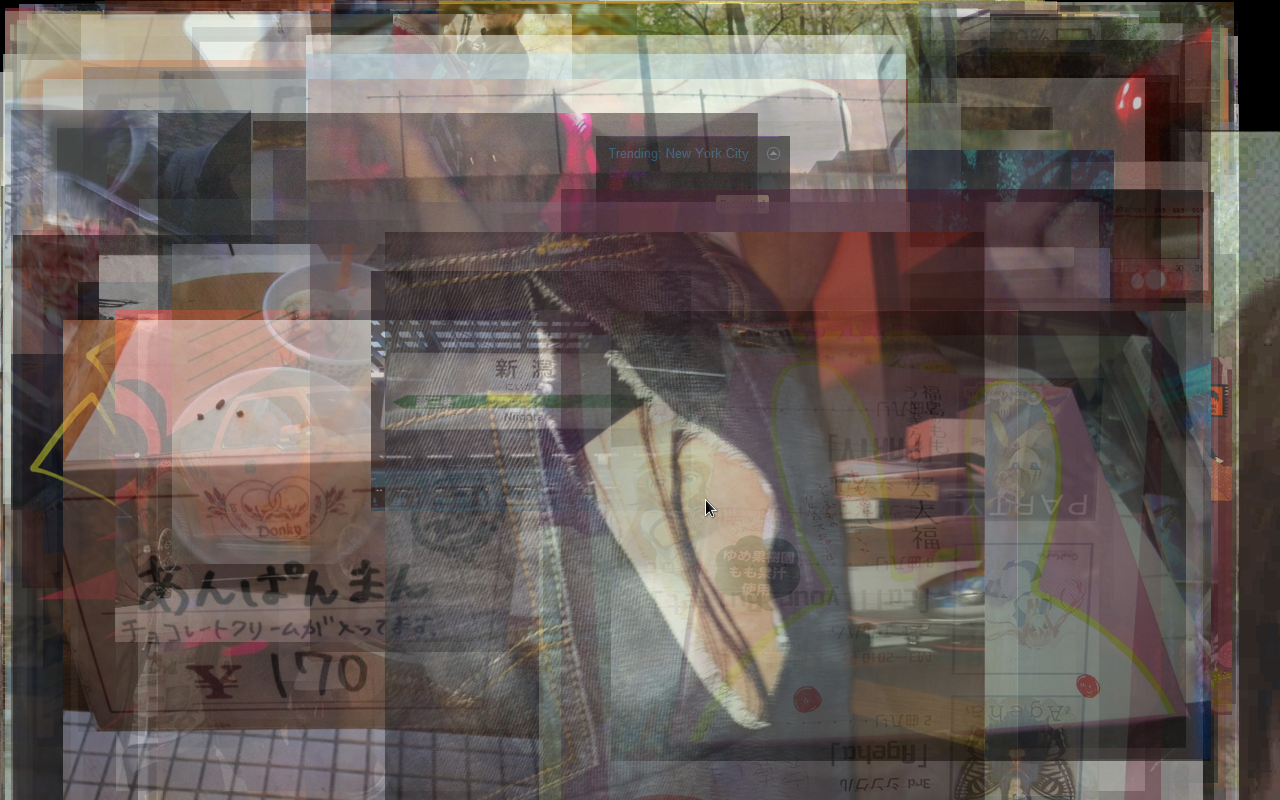 Mercurial
You can download the code from Mercurial by doing the following.
$ hg clone http://hg.atheme.org/users/nenolod/pr0ncollage
$ sh autogen.sh
$ ./configure
$ make
$ sudo make install
Tweaking Guide
At some point, you'll be able to tweak some things using the MCS commandline utils, but this isn't implemented quite yet…
Links
jwz's WebCollage has a similar random image concept, but mostly crawls LiveJournal and Google Images.
Brennan Underwood (you may remember him from previous applications like Winamp 3) has a similar random image thing called Debris except it's for Windows, and it does more than just random images.
Electric Sheep is a similar concept, but it doesn't work with random images.
License
Standard ISC license (e.g. a simplified BSD license):
Copyright (c) 2010 William Pitcock <nenolod@dereferenced.org>.
Permission to use, copy, modify, and/or distribute this software for any purpose with or without fee is hereby granted, provided that the above copyright notice and this permission notice appear in all copies.
THIS SOFTWARE IS PROVIDED BY THE AUTHOR "AS IS" AND ANY EXPRESS OR IMPLIED WARRANTIES, INCLUDING, BUT NOT LIMITED TO, THE IMPLIED WARRANTIES OF MERCHANTABILITY AND FITNESS FOR A PARTICULAR PURPOSE ARE DISCLAIMED. IN NO EVENT SHALL THE AUTHOR BE LIABLE FOR ANY DIRECT, INDIRECT, INCIDENTAL, SPECIAL, EXEMPLARY, OR CONSEQUENTIAL DAMAGES (INCLUDING, BUT NOT LIMITED TO, PROCUREMENT OF SUBSTITUTE GOODS OR SERVICES; LOSS OF USE, DATA, OR PROFITS; OR BUSINESS INTERRUPTION) HOWEVER CAUSED AND ON ANY THEORY OF LIABILITY, WHETHER IN CONTRACT, STRICT LIABILITY, OR TORT (INCLUDING NEGLIGENCE OR OTHERWISE) ARISING IN ANY WAY OUT OF THE USE OF THIS SOFTWARE, EVEN IF ADVISED OF THE POSSIBILITY OF SUCH DAMAGE.